Needle Felting Foam Block

Needle Felting Foam Block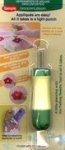 Clover Felting Needle Tool

This is great for backgrounds because it has 5 needles spread out. Comes with 5 fine needles. Features a safety lock devise to secure the cover over the needles.


Pen Style Felting Needle Tool Clover

Allows application of small or delicate materials using 1, 2 or 3 needles. It can be adjusted to two lengths of needle sizes that can be used with the Needle Felting Molds for creating 3-dimensional design and applique. Handle offers ease of use because o


Single Needle Felting Tool by Clover

Easy-to-hold design allows for detailed work with "pinpoint" accuracy.